Adair Outdoor Range
---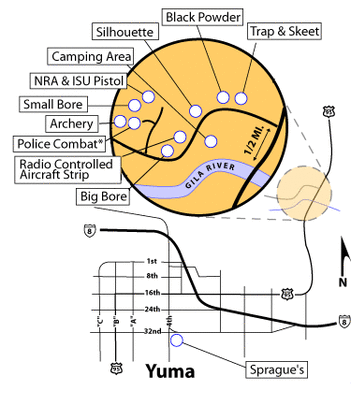 This PUBLIC outdoor range facility is located approx. 15-miles NE of Yuma on Hwy 95 (16th st.) Turn off about 1/2 mile past Gila River bridge to the west.
---
FULL Yuma Dove Hunting Info - AZ Game & Fish
---
(928) 726-0022 (Sprague's Sports, Inc)
Pistol Range
Archery
Big Bore (1,000 yds.)
Small Bore
Trap and Skeet
Police Combat (*Law Enforcement Only)
Silhouette range
Camping Area
Black Powder Range
Recreational Complex Rules
Public Hours: Open seven days a week.
Juniors under the age of 14 must be accompanied by an adult.

Firing is permitted only on the designated ranges. Discharge of a firearm in any other location on this range shall be a violation of Rules and the violator shall be immediately evicted.

Drinking of intoxicating liquor is prohibited on the firing area; and handling or firing of weapons by intoxicated person is prohibited. The judgment of the Range Master shall be final as to the competence of any person to handle weapons or fire weapons on this range.

Persons or organizations desiring to use a specific range for a tournament shall forward a written request for permission to use said range at least thirty days before date of use. The request shall contain complete and accurate information as to time, area, facilities needed, estimated attendance, and other details to Adair Ranges, Inc.
Monthly Shooting Club Activities Going on at Adair Ranges
Yuma Trap and Skeet Club:
Open trap and skeet 9 a.m. to 1 p.m. Saturdays and Sundays, Noon to 4 p.m. Tuesdays and Thursdays at the Adair Park range. Call Bob Avila at 919-0622.
Yuma Young Guns (youth shotgun shooting team):
Interested youth please stop by or call head coach H. McNutt at 580-0918.
Yuma Territorial Longrifles Club:
Open black powder matches at 8:30 a.m. 1st and 3rd Saturdays at Adair Park Black Powder Range with monthly meeting prior to shooting on the 1st Saturday. Call Dennis Hansel at 342-7573.
Cholla Gun Club:
Metallic Silhouette Shooting Club...Sign up for matches at 8:30 a.m. Shooting begins at 9 a.m. sharp at the Adair Park Metallic Silhouette Range with all NRA approved matches open to the general public. NRA guidelines are followed for each event with instructions provided as necessary. Cartridges must not result in damage to the targets - no belted magnums.
Weekly shooting with Schutzen .22 rifle matches on the Black Powder Range; Wednesdays for informal get-togethers for fun and plinking off the bench or standing, to practice shooting skills, test ammo for the gun you want to shoot; Wednesdays 11 a.m. to 3 p.m. for BPCR silhouette vintage military rifle, cowboy lever rifle and .22 long range silhouette practice and/or match; Fridays are fun matches to shoot .22 rifle and pistol silhouette, informal get-togethers for .22 rimfire rifle or pistol only.
Call Rick Kelly @ 928-502-0736 for more info.
High Power Rifle and Pistol Club of Yuma (formerly Yuma Rifle and Pistol Club):
Practice each Saturday. For details, call president Joe Murek at 627-4556, Paul Lerma at 480-7458 or Gerald Brooker at 349-1311.
Yuma Matchmasters:
First Sunday each month is Steel Challenge Matches; First Sunday for Multi-Gun Matches; 2nd Sunday - IPSC Combat Matches; 4th Sunday for Cowboy matches. Call Charlie Schickle or Joanne Schickle at 502-1298.
Contact Yuma MatchMasters, Inc.
Southwest Bowhunters Archery Club:
Open archery shoots at 8 a.m. Sundays at Adair Park with the practice range open all week. Call Debbie Elliot at 760-688-6522 or visit the website, southwestbowhunters.net. Check them out on facebook and instagram too!
Adair Ranges, Inc. is a private, nonprofit corporation, comprised of the Yuma Area Shooting and Recreation Clubs, who operate and maintain these ranges for all to safely enjoy. RANGE RULES WILL STRICTLY BE ADHERED TO.
Ongoing Schedules Of Events
Yuma Territorial Long Rifles - Shoot on the 1st and 3rd Saturday of each month.
Yuma Matchmasters shoot IPSC 2nd Sunday of month. Contact Ron Gissendaner 726-0022.
Yuma Matchmasters shoot SASS cowboy action 4th Sunday of month.
Yuma Matchmasters shoot a Steel Challenge match 1st Saturday of month.
Contact Joanne Schickle 502-1298.
SW Bowhunters Archery Club shoot each Sunday 8am.
Yuma Rifle & Pistol Club shoot DCM matches and long range big bore.
Contact Paul Lerma 783-6766 for schedule.
Cholla Gun Club shoots a variety of silhouette matches and others too.
Contact Glenda Graves 314-1029.